JUNIOR ROOKIE BALL FORMERLY-BLASTBALL
---
Age 4 to 6 (as of June 1st of the calendar year) 
Runs Monday & Wednesday evenings at the PCH Field, Queen Elizabeth Park. Start Times of 45 min sessions rotate from 5 pm, 5:45 pm, 6:30 pm, and 7:15 pm. 
Our Mission: To provide a stimulating, active and learning experience for our young children while introducing them to the game of baseball for the first time. Our goal and focus are to promote and enhance each child's social/emotional, physical and cognitive development through learning the basic fundamentals of baseball as well as other important skills.
Our Objective:  The main objective is to provide a structured program for your children to learn together in a team environment while learning new skills each night. The number one goal of our program is ensuring our youngest Chevys' are learning the fundamentals of baseball and most importantly, having fun while doing so. 
If your child has played 2 years at Blastball, they will be permitted to move up to Pony at age 6. 
Equipment Required: Sneakers or cleats, ball pants or gym pants, water bottle, ball cap, a baseball glove, baseball helmet. Jersey is provided
SENIOR ROOKIE BALL FORMERLY-PONY
---
Age 7 to 9 (Player is 7, 8 or 9 years or younger) 
Runs Tuesday & Thursday evenings at the PCH Field, Queen Elizabeth Park. Start Times of 1 hour and 15 min long sessions rotate from 5 pm and 6:30 pm
This program is great for Blastball program graduates but can also be introduced to new ball players. Sessions start with a mini practice followed by a game. The Program staff pitch to the kids at this level.
Difference between Pony and Jr Mosquito: No travel for Pony, whereas Jr. mosquito does travel outside of Summerside. Program staff pitch to the players in Pony, whereas Coaches pitch to the players in Jr Mosquito. 
Equipment Required: Sneakers or cleats, ball pants or gym pants, water bottle, ball cap, a baseball glove, Baseball Helmet. Jersey is provided
---
Age 7 to 9 (Player is 9 years or younger) 
Practice through the week (Wednesday or Thursday) with your home games being Sunday Evenings at Queen Elizabeth Park. The coach pitches to the players at this level. You play six away games that may be held at any of the following locations (Bedeque, Borden, Kensington, Tignish or Oleary). This program is meant to prepare players for the competitive level of baseball. Having experience in the Blastball or Pony program is suggested to enroll in Jr. Mosquito. 
Difference between Pony and Jr Mosquito: Players have to travel in Jr. Mosquito, whereas Pony does not travel outside of Summerside. Program staff pitches to the player in Pony, whereas the coaches pitch in Jr. Mosquito.
Equipment Required: Ball Cleats, white ball pants, water bottle, ball cap, a ball glove, ball helmet. Jersey is provided. 
---
Here are the divisions we offer at the competitive level, meaning that the player can choose to tryout for one of our "AAA", or "AA" teams or be placed on one of our "A" teams:
11U (Mosquito): Player is 11 years or younger during the calendar year
13U (Peewee): Player turns 12 or 13 years during the calendar
15U (Bantam): Player turns 14 or 15 during the calendar year 
18U (Midget): Player turns 16, 17 or 18 during the calendar year
---
SABA offers a full range of Camps and Development sessions year around. For more information on this, please visit our Development Tab on our website! 
Brayden Kirev
Program Coordinator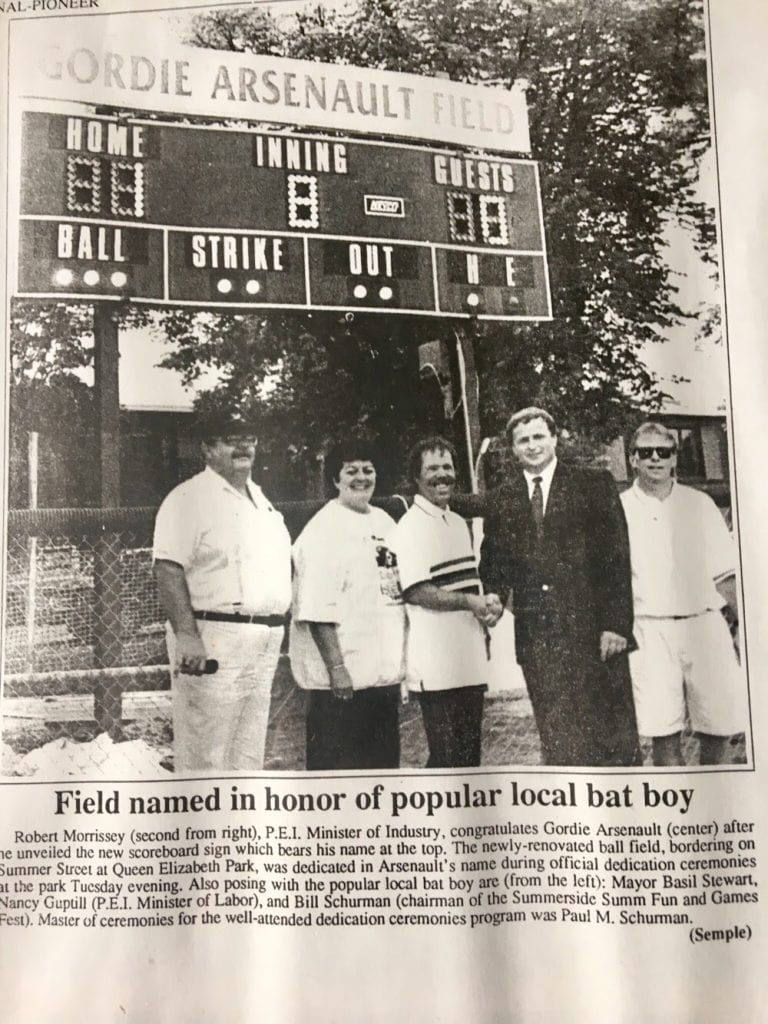 Summerside Area Baseball Association
---
Incorporated in 1981.
Past Presidents: 
Current - Nick Hann
10. Tanner Doiron
9. Carrie Adams
8. Gian Martinson
7. Mike Cameron
6. Danny Mckenna
5. Kenny Waite
4. Dave Higgins
3. Terry Murphy
2. Dan Kelly
1. Greg Guptill
Past Hosted Championships:
- 2022 16U Female Nationals
- 2018 13U National Atlantic Championships
- 2017 15U Ray Carter Cup National Championships
- 2016 15U National Championships
- 2010 13U National Atlantic Championships
- 2009 Canada Summer Games, PEI
- 2006 18U National Championships
- 1992 to 2005 13U National Championships