SUMMERSIDE, PE – The Stage has been set for the 2019 18U "AA" Atlantic Championships!
The Top Baseball Atlantic Championship gets underway at Legends Field this Friday in Summerside with a five team tournament format.
"We are very excited to welcome all teams to this event. A lot of work has been put in behind the scenes to ensure all requirements have been met and that this Championship is run professionally while leaving a postive long-lasting memory for the players and their families." said Baseball Atlantic Representative for the Championship, Gian Martinson.

Gian Martinson, Baseball Atlantic Representative
The following teams have won their respective Provincial Championships and will represent the 4 provinces at Atlantics this weekend.
Prince Edward Island Provincial Champions & Host (PEI #2): Summerside Chevys
Prince Edward Island Runners Up (PEI #1): Cardigan Clippers
New Brunswick: Fredericton Royals
Nova Scotia: Hants North Jays
Newfoundland and Labrador: Corner Brook Barons
The Host Committee, Technical Committee and Protest Committee have also been finalized for the event, bringing in an enormous amount of experience with Baseball, Event Hosting and Management right across the board.
Host Committee:
Baseball Atlantic Representative – Gian Martinson
Chairman – Tanner Doiron
Game Operations Supervisor – Chuck Grady
Hospitality & Team Services – Christine Burlock
Host Team Representative – Tammy Gallant
Technical Committee:
PEIBUA Representative – Mike Richards
Umpire – Daryl Carroll
Umpire – Brody Jenkins
Umpire – Jack McCabe
Umpire – David McQuaid
Umpire – Devin Schut
Umpire – Johnathan Schut
Umpire – Lindsay Walker
Protest Committee
Blair Creelman
Gary Barlow
Tilmon Pineau
Summerside Baseball would like to congratulate two of its umpires, including it's Zone Umpire-in-Chief, Shawn Lawerence and Brody Jenkins on their selection to umpire at this event.
Games get underway on Friday morning with an all PEI match-up beginning at 8:00am on Legends Field.
Admission to the grounds is FREE all weekend long. Full Canteen Services will also be Open during the weekend. Tournament Office will be located in the Legends Field Press Box.
FULL SCHEDULE: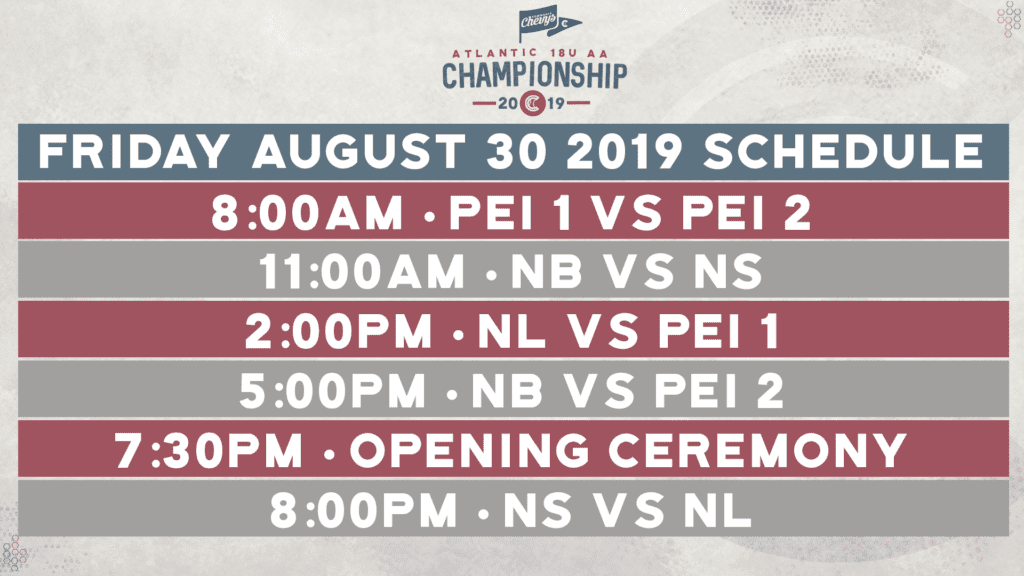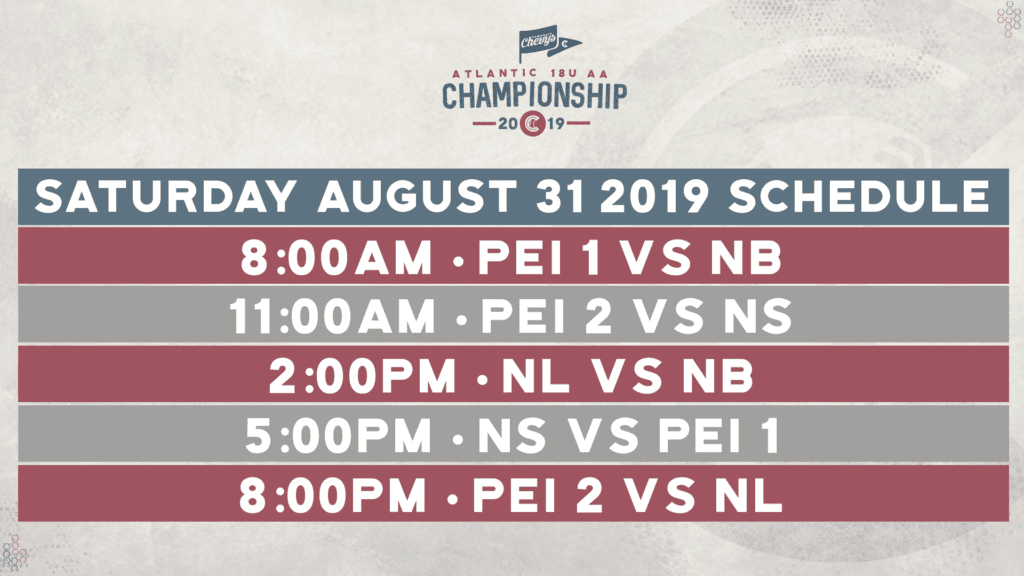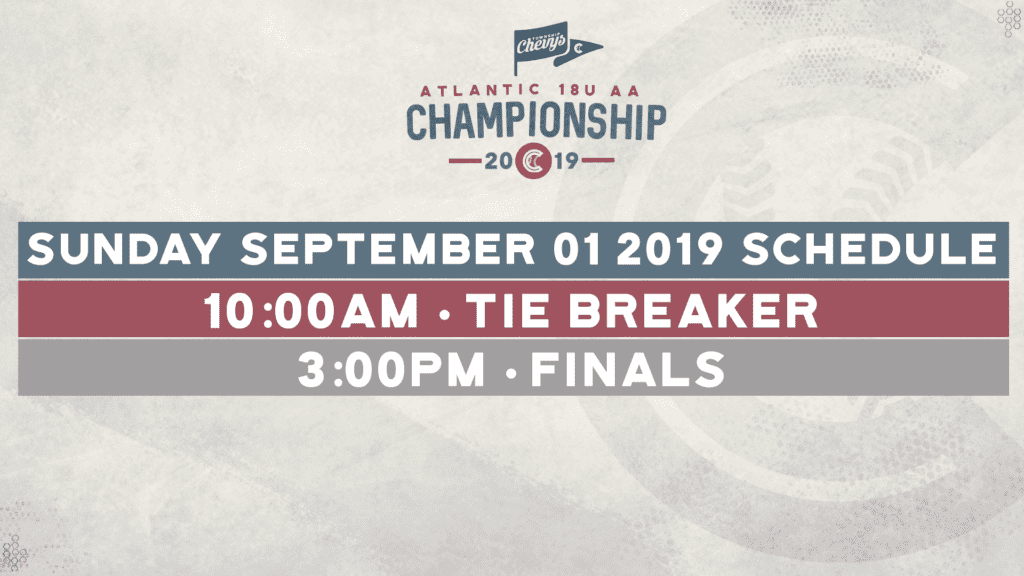 To follow along during the Championship, scores and standings will be posted online HERE: https://summersidebaseball.ca/events/#upcomingchampionships or in person at Legends Field.
The Summerside Baseball Social Media Channels will also be very active during the championships and can be followed HERE:
Facebook – www.facebook.com/chevysball
Twitter – www.twitter.com/chevysball
Instagram – www.instagram.com/chevys_ball
-30-
MEDIA CONTACT:
Tanner Doiron: tanner@summersidebaseball.ca
Chairman, 2019 18U "AA" Atlantic Championships